WE SHIP TO THE LOWER 48!
We ship Mondays and Tuesdays to ensure 2nd day delivery for freshness. Packages are chilled before shipment and product will arrive at room temperature. Refrigerate or freeze immediately upon arrival! Our authentic German soft pretzels are handmade from 100% organic wheat flower, regionally sourced from Lindley Mills in Winston-Salem. No sugar. No additives. Vegan.
The Beer Garden is Open!
Located in downtown Swannanoa, the Beer Garden is the perfect place to enjoy hot fresh pretzels, traditional German beer cheese, and local drafts. Come by for a round of ping pong, or hang out and observe the bakers in their natural habitat. Indoor and outdoor seating available.
Our Story
Blunt Pretzels is Asheville's premier artisanal pretzel bakery. Founded by German immigrants in 2011, our dedication to authenticity, quality, and community has made Blunt Pretzels an integral part of the Asheville food scene. Our handmade pretzels are made with high quality locally milled organic flour according to German baking traditions going back centuries The best part? They're vegan. Check out the link below to find out more about who we are, where we came from, and how we went about making the most delicious vegan pretzels in the country.
Event Calendar
Out and about in Asheville? Pretzels might be nearby! See if our pretzel carts are near you or plan your trip with our events calendar.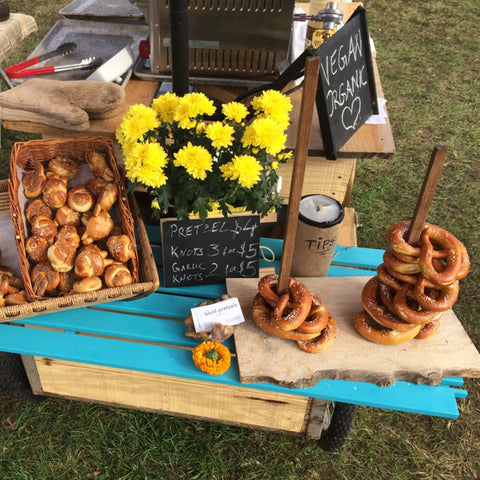 Catering
Yes we cater! We offer a variety of catering packages for weddings, parties, corporate events, and more. Click below to book.
Wholesale
Looking for a salty chewy snack for your menu? Blunt Pretzels are the perfect solution! Click the link below to find out more.